---
One of the advantages of working for a wine tourism company is that, from time to time, you get to go on a tour yourself. I recently had the opportunity to enjoy a 3-day vacation in Rioja filled with great food and amazing wine and many awesome experiences to report back about.
As I mentioned the trip took 3 days. The first two I stayed in Logroño and on the third in Haro. Especially if you have a car Logroño is a great place from which to base your trip to Rioja. It's the capital of La Rioja (not to be confused with Rioja the wine region) and the largest city as well. It has a fair amount of sights to see and many amazing places to eat and drink wine of course, but it is far from being a big uncomfortable bustling city. 
I traveled from Madrid to Logroño by train. Taking the train is fast, easy and comfortable and the train drops you off right in the city center. From there my hotel was no more than 5 minutes on foot. If you need a taxi, there are always some waiting outside the station.
Winetourismspain´s blog with articles about Spain´s wine regions, wine tours in Spain´s wine country, local wines and gastronomy … Read More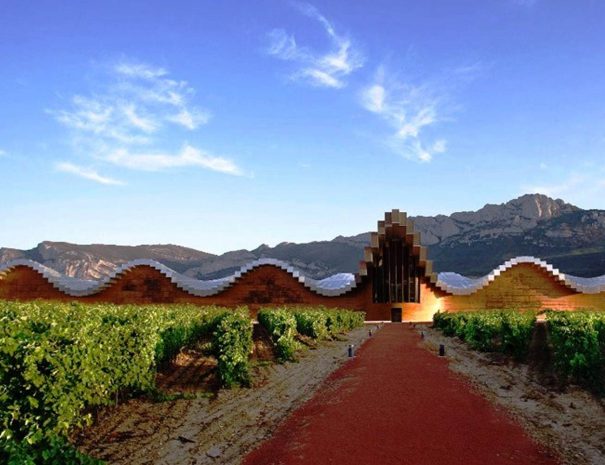 Discover the best of La Rioja with this short but complete road trip itinerary in Spain´s top wine region in which you will visit emblematic wineries and taste their wines, explore magnificent landscapes, taste the traditional gastronomy of Rioja, get to know its culture and curiosities, and enjoy activities related to the world of wine. We have carefully selected each of the services recommended to make this the best way to discover this wonderful region. … Read More
If you are interested in a day tour of Rioja, click below
After checking in it was time for the first winery visit at Bodegas Franco Españolas. The winery is located just outside of the city, crossing the Ebro river that runs through the middle of Logroño.
Bodegas Franco Españolas is a large, traditional winery that has been producing wine for over 150 years. The entrance may fool you into thinking that the winery is more modern than it really is, but once you go down into the cellar the history of the winery is evident. The winery is almost more of a museum and it is very interesting to see the evolution from the winery's inception to living through several wars, to now. As a fun fact, they are apparently responsible for producing one of Ernest Hemmingway's favorite wines. After the visit, it's back up to the tasting room to sample 4 of their wines: one white, one Crianza, one Reserva, and one Gran Reserva.
Once I was finished at the winery, I made my way back, across the bridge to the famous "Laurel" street for lunch. Laurel and San Juan streets are two of Logroños main attractions. Both are known for the amazing pintxos you can find there. Each little bar and tavern make their own signature pintxo which they of course pair perfectly with local wine. La Calle Laurel and Calle San Juan are both usually filled with people enjoying themselves thoroughly, and it's definitely "the place to be" when the sun starts to go down in Logroño. Lunch consisted of a 5-course meal of traditional Riojan dishes, dessert, and an excellent Crianza to wash it all down. I left the restaurant extremely full, swearing I would never eat again, but somehow, I myself back at la Calle Laurel in the evening for more pintxos for dinner.
After breakfast in the hotel, it was off to Laguardia.  The small medieval town is one of the jewels of the Rioja wine country. It still preserves its wall built in 1164 and it's a place of great historical relevance to the region. Laguardia is simultaneously part of the Basque Country and the Rioja wine region, located in what's known as the "Rioja Alavesa". There is a large concentration of wineries here including some of the most important in all of Rioja (Ysios, Campillo, Artadi, etc.).
If you want to learn more about Laguardia you can check out this article.
After a short walk through the narrow cobbled stone streets, the first item on the agenda was a winery visit at Bodegas Carlos Sampedro Pérez De Viñaspre. Apart from the excellent wine, Bodegas Sampedro stands out thanks to the amazing underground cave cellar where they mature their wine. The cave itself is over 600 hundred years old and it has been in use as a wine cellar for 300 of them and the San Pedro family has been making wine for 500 years. The winery is in the center of town and the only way to create enough space was to dig deep, down into the ground. The cave winds down, 26 feet below the winery, creating the perfect conditions in which to allow their wine to do its magic. The tasting at the end of the tour consists of 3 wines that illustrate all the variety Sampedro has to offer.
After Sampedro, I headed to the outskirts of the town to the second winery on the itinerary, Luis Alegre. Even though Luis Alegre makes outstanding wine, the highlight of their winery is clearly the restaurant. Luis Alegre has, on the first floor of the winery, an amazing restaurant run by Beñat Ormaetxea with spectacular panoramic views of the Riojan countryside to enjoy while you are eating. A really unique experience.
From Laguardia, I headed to Haro where I would spend my last day in Rioja.
Haro, like Laguardia, has a very high concentration of famous wineries as well. Muga, CVNE, Lopez Heredia, etc. are all 5 minutes on foot from each other. The main reason for this is because Haro is directly south of Bilbao. There used to be a train (and there still is) that connected Haro to Bilbao with which they moved the wine to the port city. From Bilbao, the wine was then loaded on ships and distributed all across Europe. At one point, Haro was considered to be the world capital of wine and enjoyed a period of great wealth. It was one of the first cities of Spain to have electricity and there is even a delegation of the bank of Spain still located in the small town. As you walk through Haro there are old Chateaus and small palatial estates everywhere, reminders of the towns now faded opulence.
If you want to learn more about Haro you can check out this article.
My first stop, however, was at Muga.
Muga takes pride in being a very traditional winery, that respects the old way of making Rioja wine. They still use oak vats for the first fermentation, they clarify the wine with egg whites and they are one of the few wineries that still hand makes their own wine barrels. Part of the tour is dedicated exclusively to show the visitors how they handcraft the oak vessels.  They take a lot of care in making sure every step of the winemaking process is as traditional as possible. The tasting at Muga consists of 4 wines, one white and three of their reds illustrating the variety they manage to create even under such strict guidelines and standards they hold themselves to.
From Muga I went to the wine bar at Roda, not even 3 minutes away. Roda is a smaller more boutique-style winery. They have a spectacular cave-style cellar as well and they produce, not only amazing wine but also excellent olive oil as well. Their wine bar is modern and sleek which contrasts well with the ancient cellar below.
Next door to Roda is Lopez Heredia Viña Tondonia and their world-famous wine bar designed by Zaha Hadid which is also well worth a visit.
From "El Barrio de la Estación" I headed to the town center known as the "Herradura" or horseshoe. This is the best place in town for pintxos and to sit and relax with a glass of wine on a terrace. But I was headed to Beethoven, one of the top restaurants in Haro. I enjoyed another spectacular three-course meal of Riojan delights with a noticeable Basque twist, accompanied by another bottle of wine, a Reserva that the waitress suggested.
On my way back to my hotel I made sure to purchase wine for all my jealous friends and family that demanded a souvenir from my trip.
The next day I headed back to Logroño to catch my train to Madrid.
I had never been to Rioja before and now as I sit here writing this article all I want to do is go back.
blog
One of the biggest attractions to visit La Rioja region is its wineries. Rioja offers a variety of small family-owned wineries and major brands, traditional and avant-garde architecture. Planning which ones to visit according to distances, visiting times, etc. is not easy. This post shows some of the most interesting wineries to visit in Rioja. To make the planning process smooth and your trip more enjoyable, we recommend contacting us for your trip to Rioja. … Read More
---